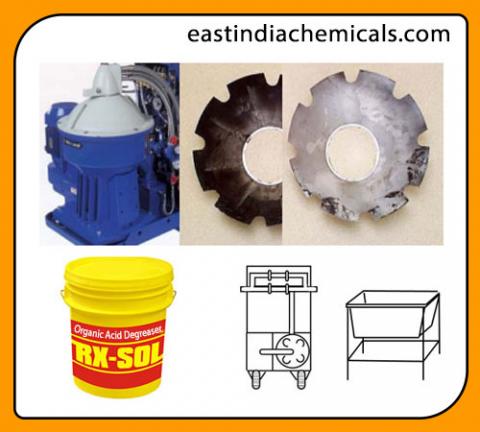 Organic Acid Degreaser
An extremely effective for removal of burnt grease , carbon deposit , oily residues and lacquers found in fuel oil and lube oil purifiers and filters. Also SALT DEPOSITION ( Salts of Calcium Carbonate etc. ) NOTE:- Mechanical cleaning ( Scrubbing and Bru
Product Delivery Locations:
Haldia Port, Kolkata Port Trust, Dhamra Port, Paradip Port
Product Description:
Powerfull cleaner for stainless steel separator & purifier Discs . RXSOL-16-1007-530 is an extremely effective for removal of carbonaceous deposits and SALT DEPOSITION ( Salts of Calcium Carbonate etc. ) burnt grease , carbon deposit , oily residues and lacquers found in fuel oil and lube oil purifiers filters and fuel oil separators.
RXSOL-16-1007-530 is a liquid blend of organic acid with heavy duty & concentrated emulsifying agents.

NOTE:- Mechanical cleaning ( Scrubbing and Brushing ) damage to discs which results in poor performance. Characteristics:- Formulated to remove heavy tenacious deposits. Allows cleaning of discs without dismantling of disc stacks. Reduces downtime. Improves efficiency of centrifuge installation. Cleans down to metal surfaces. Cleans all types of separator discs
ORGANIC ACID CLEANING AGENT FOR CLEANING STAINLESS STEEL SEPARATOR DISCS AND SEPARATOR BOWL.
Contaminants found on separator discs mostly consist of hardness salts (calcium carbonate etc.) and partly carbonized oil. The combination of dissolving agents, acids and surface active agents makes it possible to clean the separator discs quickly without brushing.
PURIFIER DISC CLEANER is a concentrated liquid mixture especially designed to remove heavy tenacious deposits which collect in fuel and lube oil centrifugal separators
Product Application:
A very fast & effectively removes without the need of Scrubbing and Brushing of Centrifugal Separators, Disc & all types of heavy tenacious deposits which collect in fuel & lube oils centrifugal separators disc stacks.
•Chemically brighten Metal surface including aluminium by removal of heavy tenacious deposits from steel or ferrous metal parts
• Save down time by cleaning all types of separator discs without dismantling disc stacks system
• Also can be use as pickling iron and steel surfaces after a welding repair
• Leaves no film or residue after cleaning
• Improves efficiency of centrifuge installation
Product Procedure:
For General cleaning it Should be diluted ,at the rate of 1-parts RXSOL-16-1007-530 to 5-parts water,( Or 1:1 ratio of any solvent like diesel ) before use or depend on nature of dirt / contamination . For Heavy deposition , immerse the stainless Steel DISCS in the container with concentrated RXSOL-16-1007-530 for 15 minutes to 3 Hrs. At 50 to 60°C ( Heating is not necessary ) .
After the unit or parts have been satisfactorily cleaned, remove the discs by using RUBBER GLOVES and rinse thoroughly with fresh water. It is recommended that this product is not used on soft metal, Zinc,Tin, Galvanized surfaces or Anodized Aluminium. Then separator discs can be used immediately.
NOTE:-
Recirculation and heating will improves the cleaning action.
For Heavy Duty Cleaning
Separator Cleaner can only be used for cleaning stainless steel separator discs. Fill a stainless steel or plastic container with pure Separator Cleaner. Immerse the stainless steel discs in the container and let the product act for 30 minutes up to a maximum of 2 hours. Heating the product is not necessary. Do not put the discs closely packed into the liquid but take care that there is enough space between them so that the product can work properly. Remove the discs from the bath (wear rubber gloves) and rinse with a powerful water jet. The cleaned separator discs can be used immediately.
Product Technical Specification:
Separator Cleaner is a colorless, strong acid, liquid cleaning agent with strong degreasing properties. This product can only be used on austenitic stainless steel and is corrosive on all other metals.
Specific Gravity (20°C) : 1.03 to 1.04
Flash point : None
pH (1% solution) : < 2
IMO-Code : 8-2031-T700.
NATURE OF SPECIAL RISKS AND SAFETY ADVICE
In accordance with the latest E.E.C. Council directives:
R 36 : Irritating to eyes and skin.
S 2 : Keep out of reach of children.
S 28 : After contact with skin rinse immediately with plenty of water.
Product Note:
Disclean removes the heavy tenacious deposits which collect in fuel and lube oil centrifugal separators and can be use as
Rust Removing chemicals as well as for Passivating of spare parts.