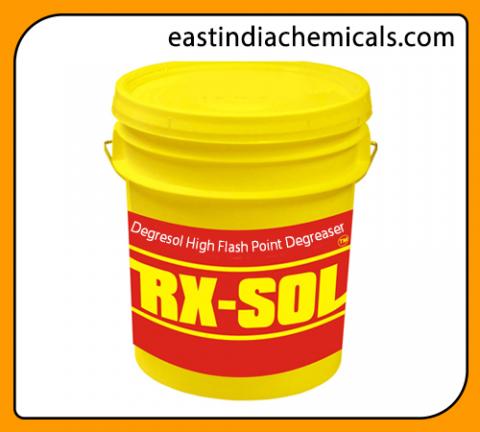 Degresol High Flash Point Degreaser
Product Delivery Locations:
Haldia Port, Kolkata Port Trust, Dhamra Port, Paradip Port
Well balanced blend of non - chlorinated degresol ( having super degreasing power ) with surfactants. Its rapid evaporation rate enables it to be used for cleaning and degreasing of electrical equipment,motor winding etc.
Product Description:
RXSOL-16-1009-020 is a well balanced blend of non aromatic hydrocarbons degresol ( having super degreasing power ) with non polar degreasing surfactant effects. Its balanced evaporation rate enables it to be used for cleaning and degreasing of electrical equipment, motor winding machine coolant from machined parts, castings, panels and electrical/electronic components etc.  classified as non flammable, flash point 62°C. 

Designed to provide a versatile degreasing solution for all manufacturing, maintenance, inspection and surface preparation needs
Safe high flash point odourless degreaser Best substitute of hazardous solvents 
Appropriate solution for use on even the most sensitive metals and plastics and in critical applications as well as for general oil and grease removal. 
Product Application:
High dissolving and penetration action with minimum residual effect.
Excellent degreasing power .Removal of oils, greases, machining fluids, hydraulic fluids, and hydrocarbon-based protective coatings in manufacturing processes. 
Safe on applied electrical insulation.
Non-corrosive .It is safe to use on painted or varnished metal surfaces also Excellent compatibility with metals and most plastics. 
Without chlorinated solvents.
Suitable for De-watering following aqueous processing. Application 

RXSOL-16-1009-020

 to wet surfaces will replace unwanted water from components and electrical systems. 
To be used as an alternative to conventional electric cleaners Cleaning electrical and electronic equipment.    
Low odour and controlled evaporation reduce exposure in the workplace.
Suitable for use in ultrasonic cleaning systems. 
Degreasing of machinery, components and assemblies during maintenance and repair. 
Final cleaning prior to welding, painting, bonding or coating. 
Product Procedure:
It must be applied concentrated . May be applied to the surface by brush or spray, agitate stubborn deposits if required with a brush and wipe away residues with clean cloth.
RXSOL-16-1009-020 can also be use in dip tank applications.  

Heavily soiled components may require agitation with a brush.

RXSOL-16-1009-020 preferably use in open or sufficiently ventilated areas. RXSOL-16-1009-020should always be used concentrate (without mixing with other solvent.)

For best results apply with either by brush, swab,or as a fine spray using suitable hand held spray  equipment. Small components may be cleaned by brief immersion in a bath of RXSOL-16-1009-020. Never use RXSOL-16-1009-020 on a running generator or motor. RXSOL-16-1009-020 can be used to clean virtually all electrical equipment  & components although  is it possible it may affect some types of rubber &  plastic. Either  remove  rubber  &  plastic  parts  from  component  or test on small area for any reaction before cleaning.

For optimum performance in ultrasonic cleaning systems a frequency of 25 kHz is recommended. Due to the self-heating ability of such systems a temperature control should be installed on the machine to ensure operating temperature remains below 40°C. Whilst components may be allowed to air dry naturally drying times can be reduced by wiping away excess material with a cloth or by employing forced air drying techniques.
Product Note:
CLASSIFICATION :

*ELECTROSOL QD (quick dry )
*ELECTROSOL NF (Non-flammable )
*ELECTROSOL PLUS APPLICATION : For cleaning of electrical parts .
Product Technical Specification:
Product  Properties:
Appearanc

Clear  Colourless Liquid

Low Evaporation Rate

Flash Point

63°C (Closed Cup)

Stability : Very stable understandard, normal conditions

Odour 
Almost odourless
Easy to handle at work station
SOLUBILITY 
Insoluble in water
Soluble in Solvent

Compatibility

 
 

Metal Plastic         Rubber

No known effect
No Known effect
May swell
Note: After use the product must always be well sealed in the drum.

Packaging

Order No.:

Size (in kgs./lts.)

 
RXSOL-16-1009-020 
 7/25   Lts
 
Product pack size:
1, 5, 10, 20, 25, 50 Ltrs packing available. Discount is not applicable on small packing.
Product alias:
X'CELL 53 COLD, Electroclean A Quick Dry, Electrosolve -E, arma clean / Electrical contact cleaner, Lotoxane®
Supplier:
Degreser, Electrical contact cleaner supplier in kolkata, Haldia - West Bengal,  Paradip - Odisha.
Distributor:
Shipchandlers in Kolkata, Hardware Stores are our major distributor of degreaser.
Manufacturer:
Degreaser manufacturer in Kolkata - West Bengal. Under license of RXSOL International Brand.