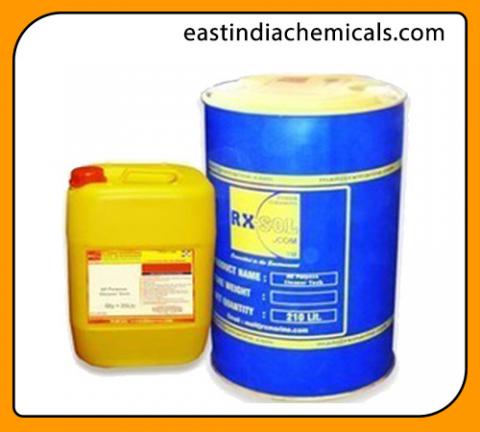 Anti Rusting Liquid Solution
nti Rust Liquis Solution is used on ferrous surfaces as a rust inhibiting treatment to protect parts during in-plant storage or handling. Steel components continually immersed in aqueous solutions of Anti Rust Liquis Solution will not rust. Anti Rust Liquis Solution is valuable as a rust inhibitin
Product Delivery Locations:
Haldia Port, Kolkata Port Trust, Dhamra Port, Paradip Port
Product Description:
RXSOL ANTI RUSTING LIQUID SOLUTION is designed for use as a rust inhibiting final rinse treatment.RXSOL ANTI RUSTING LIQUID SOLUTION is a water-based concentrate and complete replacement for oil-based preventives for indoor and outdoor protection of equipment and components. ANTI RUSTING LIQUID SOLUTION allows flexibility to customize the length of protection required and the applied cost per square foot (or m2). ANTI RUSTING LIQUID SOLUTION forms a solution in water and is applied to metal surfaces by spraying or dipping. It is easly soluble in water and provide resistance against bactria and proterct fungus also.
Product Application:
Anti Rust Liquis Solution is used on ferrous surfaces as a rust inhibiting treatment to protect parts during in-plant storage or handling. Steel components continually immersed in aqueous solutions of Anti Rust Liquis Solution will not rust. Anti Rust Liquis Solution is valuable as a rust inhibiting rinse removal of rust or scale. It can also be added to neutralising baths after acid pickling.

OTHER TYPICAL APPLICATIONS
Thin film coating for dry storage of:
Castings, tubular parts, finished parts, gears
Pumps and housings
Textile and printing equipment
Structural steel, sintered metals
Bars and roll stock
Additive to parts washers and rinse water systems
Hydroblasting and hydrotesting.
Spare parts, tools.
Product Procedure:
Anti Rust Liquis Solution is used in rinse tanks or soak tanks as the final treatment step prior to storage, circulating in system, pipe line, spare parts. Parts should not be rinsed removal from Anti Rust Liquis Solution.

Concentration: 2% - 5% v/v
Temperature : Ambient - 80°C. Elevated temperatures facilitate quick drying of parts upon removal.
Method: Immersion or spray.
Tank Construction: Mild steel
Product Technical Specification:
| | |
| --- | --- |
| Appearance | Clear liquid |
| Specific Gravity | 0.95-1.10 |
| Odour | Pleasent |
| pH@5% | 9.50-10.50 |
| Volatile by % | <0.12 - 0.15 |
| Flash Point | 220 °C |
| Solubility in Water | 100% Soluble |
Product Note:
METALS PROTECTED

Carbon steel
Aluminum
Zinc.
FEATURES & BENEFIT
Protects ferrous and non-ferrous metals
Water-soluble, environmentally friendly and safe to apply
Prevents flash corrosion on cold-rolled steel
Very stable in hard water
Extends shelf-life of finished product
Will not clog filtration systems
Forms a clear, dry, hydrophobic film which renders an attractive appearance to protected parts
Vapor phase action protects uncoated surfaces and difficult to reach areas
Easy to remove if necessary
Non-flammable
Dry film is stable up to 350°F (176°C)
Excellent wetting properties
No hazardous decomposition by-products